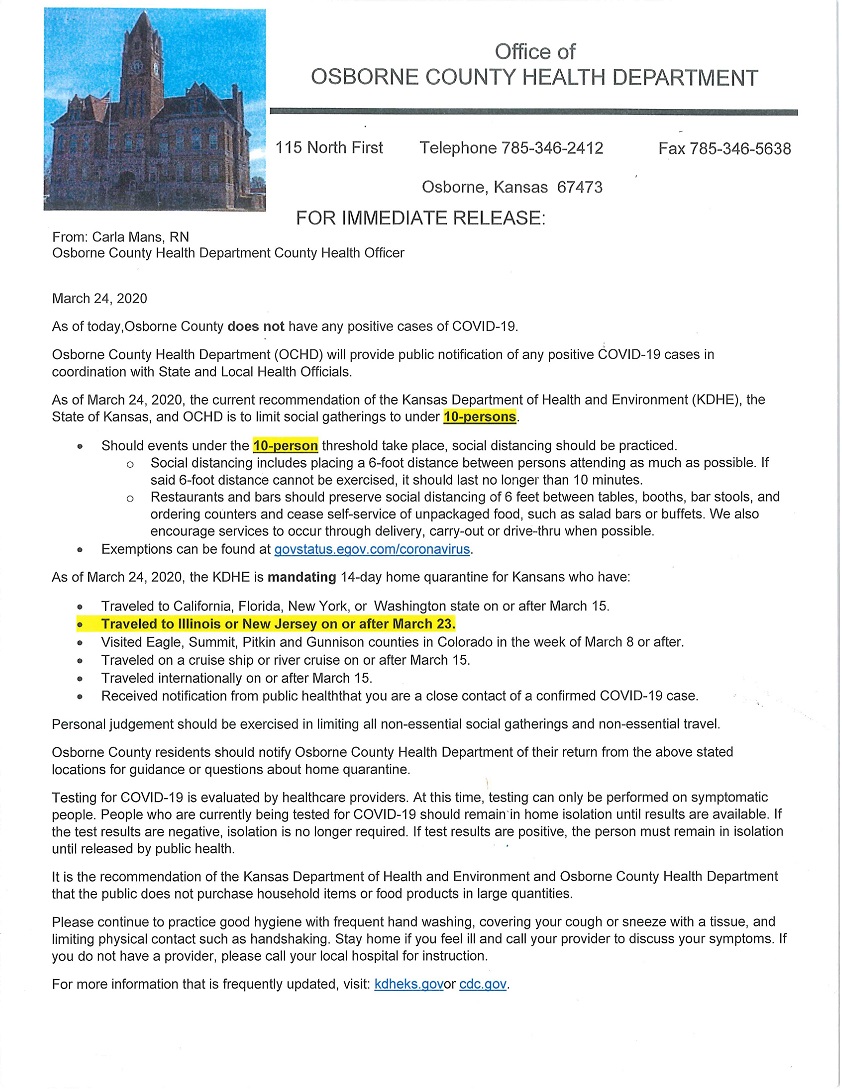 Osborne County Health Department
115 North First
Osborne, KS 67473
785-346-2412
Fax: 785-346-5638
ochd@ruraltel.net

Monday - Friday
8:30 a.m. - Noon; 1:00-5:00 p.m.
Health Nurse: Carla Mans
Office Personnel: Julia Parsons

The Osborne County Health Dept was notified of the 4th case of Covid in the county on Thursday evening. the individual is at home and contact have been notified. This is the only active case in the county at this time. We urge individuals to maintain 6 ft distancing and recommend mask wearing. Please stay home and contact your health care provider if you are ill.
A participant in the rodeo at the Osborne County Fair on Saturday July 25 has tested positive for Covid. If you attended the Fair Saturday evening please notify your health care provider if you develop symptoms of Covid. The participant was not an Osborne County resident and we do not have any active Covid cases in the county at this time.
The Osborne county Health Department does not discriminate on the basis of race, color, national origin, sex, age or handicap. If you feel that you have been discriminated against, you have a right to file a complaint with the Health Department.
General Information
Complete Community Health Services
Adult Services
Children's Services
Immunizations (Child)
Immunizations (Adult)
Maternal & Infant Care Program
Healthy Start Home Visitor
WIC (Nutrition program for Women, Infants & Children)
Women's Health Services
Public Health Services
Health Education
Environmental Consultations (Part of the North Central LEPP Program)
Kansas Department of Health & Environment
Adult Services
Children Services
Health Links
Public Health Services